Mapleview Easy Start (22-22-17)
Mapleview Easy Start is a highly digestible, skim milk based milk replacer formulated using the most recent scientific information and designed for excellent growth of young dairy calves.
It is formulated, using a blend of ingredients, for quick dispersion resulting in a milk replacer with a highly desirable texture and aroma to stimulate the young calf's appetite.
Optimal digestibility for the young calf is maintained whether the milk replacer is used in a computerized feeding or hand mixing system.
Features & Benefits
Quick & Easy To Prepare
Designed for Optimal Growth
Highest Quality Ingredients
For Use in Computer Feeders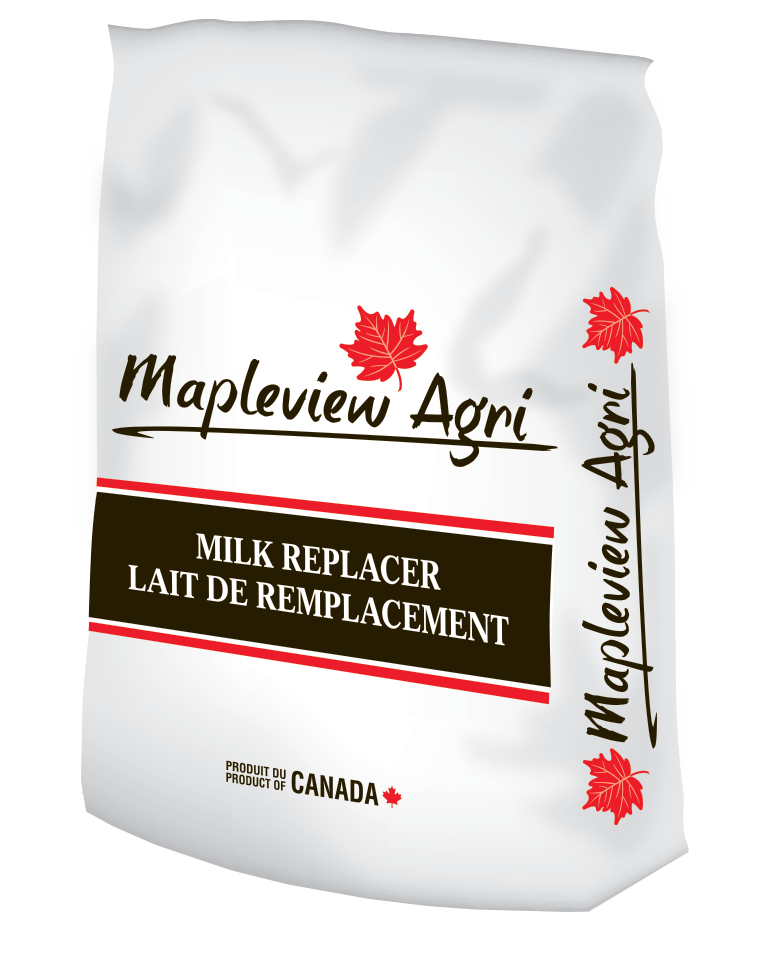 Guaranteed Analysis
| | |
| --- | --- |
| Crude Protein (min) | 22.0% |
| Milk Protein (min) | 22.0% |
| Crude Fat (min) | 17.0% |
| Crude Fiber (max) | 0.50% |
Vitamins & Minerals
| | |
| --- | --- |
| Vitamin A (min) | 44,000 IU/kg |
| Vitamin D (min) | 12,000 IU/kg |
| Vitamin D (min) | 275 IU/kg |
| Calcium (actual) | 0.80% |
| Phosphorus (actual) | 0.70% |
| Sodium (actual) | 0.60% |
Manual Mixing Instructions
First determine the number of litres of milk to be fed.
Measure half of this volume as hot (47-60 degree) water.
To determine the amount of powder use a scale and weigh 130g times the number of litres of milk to be fed. (eg. 15L of milk requires 15 x 130g which equals 2kg of powder.)
Add this milk replacer to the hot water and mix until dissolved.
Add remaining water to obtain desired volume aiming for a final drinking temperature of 40-44 C. Re-mix prior to feeding.
Computer Feeder Instructions
Calibrate the computer to add 150g of milk replacer per litre of water dispensed.
Feeding Rates
| | | |
| --- | --- | --- |
| Age | Liters per Feeding | Feedings / Day |
| Day 1 | 4-6 Liters of Colostrum | ASAP |
| Day 2-7 | 2 L | 3 |
| Week 2-4 | 3.25 L | 2 |
| Week 5-8 | 3.25 L | 1 |
For additional information about Mapleview Easy Start milk replacer, download our flyer.
We have been using Mapleview milk replacer for 1.5 years and we love it, our kids love it and we would recommend it to anyone! It mixes very well and is always consistent. Mapleview Agri always provides excellent customer service and makes sure their customers are always happy with the products.

Tim & Katie Pelleboer

Wallenstein Feed & Supply

We are extremely happy with the way the Mapleview product mixes, and the way the machine cleans easily afterwards. It mixes better than any previous products we've used. The milk replacer smells great, and we know that with the high-quality ingredients we don't need to worry about adding other supplements. The calves are growing exceptionally well, gaining over 2.5 lbs/day!

Zac, Kirstan, Nathan, Haydan, & Sophia Bennett

Rideauside Farm Inc.

We have been using Mapleview milk replacers for 8 years now. We love how nicely it mixes, both in our calf feeder, and when we hand mix individual bottles. Our calves like the taste and have always grown very well on it!

Lindsey, Tim, Jesse & Peter Hiemstra

One Oak Farms
Where To Find Our Products
Mapleview Milk Replacers can be purchased from dealers in Alberta, British Columbia, Manitoba, Nova Scotia, Ontario, Prince Edward Island, Quebec, and Saskatchewan.
Find a Dealer