Effects of Cel-Max on performance
Comparison
26/17 Milk Replacer + Cel-Max™ (CMX) VS.
26/17 Milk Replacer (CON)
Details
120 Test (CMX) calves
120 Control (CON) calves
78 day trial
Weaned on day 56
Weighed:
Day 0 – Arrival
Day 14
Day 56 – Weaned
Day 63
Day 78 – Departure
Milk Replacer feeding rate
| | |
| --- | --- |
| Week 1-2 | 520g / Day |
| Week 3 | 780g / Day |
| Week 4-5 | 1040g / Day |
| Week 6 | 520g / Day |
| Week 7-8 | 390g / Day |
Grain feeding rate
| | |
| --- | --- |
| Weeks 1-3 | Calf Starter (18% CP) |
| Week 4 | 50% Calf Starter + 50% Corn + Pellets |
| Weeks 5-11 | Corn + Concentrate blend including 2% chopped straw (18% CP) |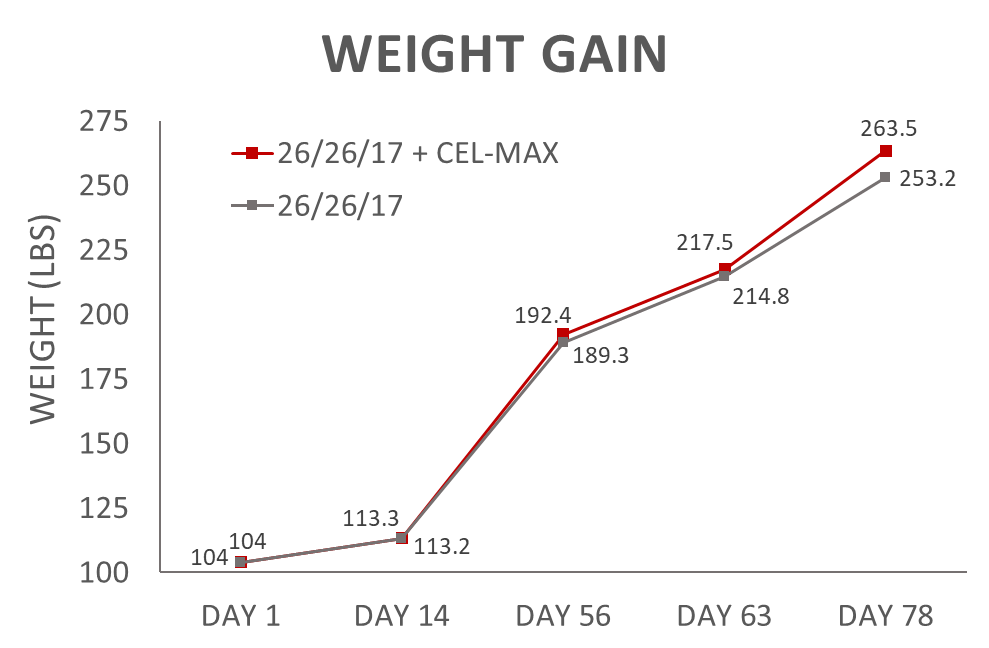 | | 26-26-17 + Cel-Max™ | 26-26-17 |
| --- | --- | --- |
| Arrival weight | 104.62 LB | 104.61 LB |
| Departure weight | 263.54 LB | 253.22 LB |
| Average daily gain | 2.03 LB | 1.90 LB |
| Milk replacer consumption | 37.67 KG | 37.67 KG |
| Grain consumption | 106.15 KG | 109.91 KG |
| Cost per LB of grain | $1.16 | $1.24 |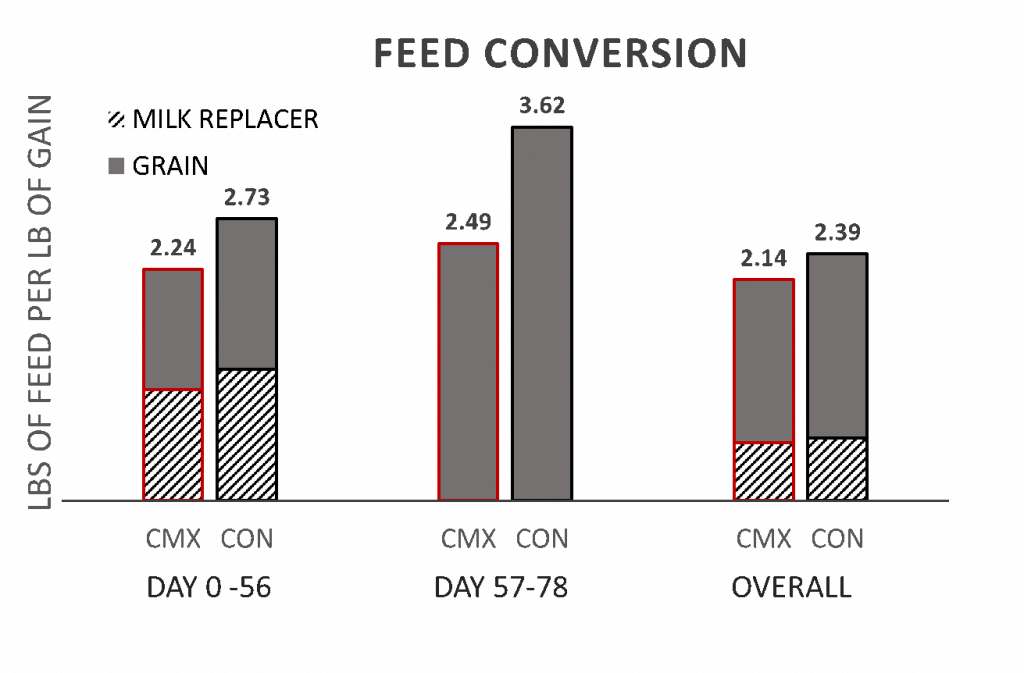 Benefits of Cel-Max™
11 lb gain advantage at 78 days
12% less feed required per pound of gain
$0.08 lower cost per LB of gain
Conclusion
The results suggest that feeding 1 g/day of Cel-Max™ in the milk replacer for the first 56 days can promote increased calf performance. A statistically significant increase in feed efficiency, as well as average daily gain, were observed in the calves fed Cel-Max™ until weaning. Overall feeding calves Cel-Max™ resulted in lower cost per pound of gain.
Facility Tours, Potential Projects or Information – Contact Us
For information regarding a tour of the facility or more information on our research program availability and pricing please contact us.
Contact Us